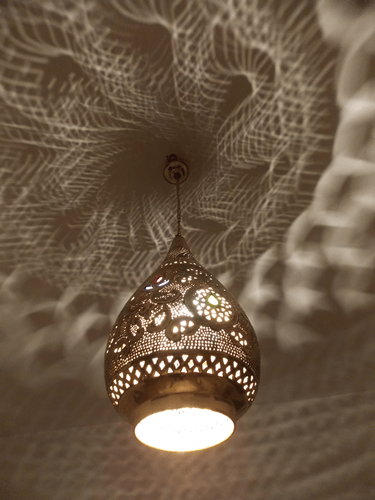 Description
Handmade Moroccan Brass Stained Glass Lantern Shades
Moroccan Lantern Pendant made of Brass and has stained colored glass pieces which are finely installed within the lamp. The lamp is nearly cone-shaped but has curvatures to make the piece acquire elegance. The stained colored glass pieces add majestic feeling in addition to the colored spots of lights it provides within the room which provides very special feeling to its surroundings.
The piercing and the hand-etching of the Moroccan Lantern are carefully made in different patterns to provide very special shades all over the room, while in case you would like to enjoy this lamp without these shades you can just install a stained light bulb which would provide very soft light to the surrounding.
The Moroccan Lantern Pendant is relatively large and can be placed within a living or a guest room in which it will be surely an eye catching.
This Moroccan Lantern is designed to whoever likes to have something with the royal feeling in their house.