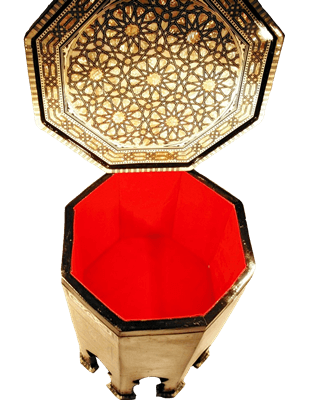 Description
Handmade Moroccan Mother of Pearl Table
Handmade Moroccan Table with mother of pearl inlaid all over the piece.
This table has the octagonal shape from top to bottom while its legs are arch shaped which is widely used to give the unique spirit of the Moroccan architecture.
The mother of pearl is carefully inlaid in different geometrical designs which give each piece a unique taste. Every table is handmade by skilled artisans who works for hours to make every table a real piece of art.
This combination of the octagonal shape with the arch shape in addition to its storage ability made this table design live for centuries.
This Moroccan Mother of Pearl Table is made of beech wood and is designed to have storage place which is lined with velvet.