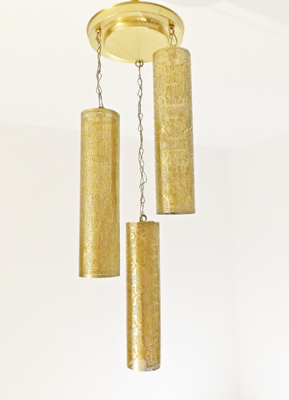 Description
Handmade Moroccan Cylindrical Brass ceiling lamp Chandelier
Handmade Moroccan electric ceiling lamp Chandelier made of Solid Brass,
This piece is designed to be a combination of modern and classical decoration styles. It is made of three hanging hand itched cylinders hanging from a round tray which is attached to the ceiling.
The three cylindrical pieces are hand etched plainly; two of them have some geometrical patterns within the plain hand etching while the third one is plainly hand etched without any pattern which makes them suits any kind of room style.
Their light is very soft which provides ambient feeling to the room, gallery or shop where it is placed.
This lamp is considered a new style of Moroccan lamps that was not available for so long but it was loved by many interior decoration engineers as it is very special addition to any type of decoration and provides classy feeling to the place.
The lamp is electrically equipped and wired