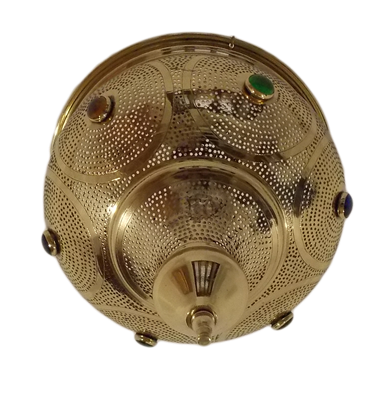 Description
Handmade Moroccan electric jeweled ceiling lamp Pendant
Handmade Moroccan electric jeweled ceiling lamp Pendant made of Solid Brass, this piece is jeweled with beautiful different colors glass, those glass pieces when combined with the brass lamp bring very beautiful colors which adds magic to the room it is placed.
The hand etching of this lamp is made in a pattern of various circles where the colored glass jewels lies in the center of every circle which produce an artistic and ambient feeling to the room.
This hand etching and colored jewel pieces make this piece very special and unique. Also the lamp shades are very relaxing which can be a perfect fit for a bedroom or a living room.
The lamp is electrically equipped and wired