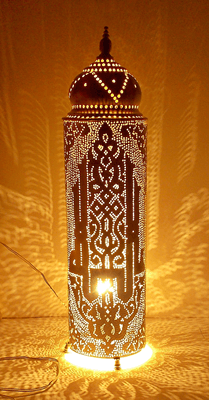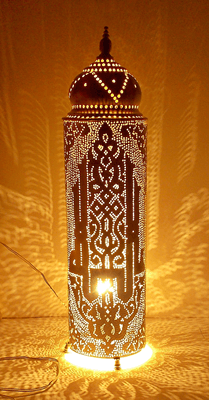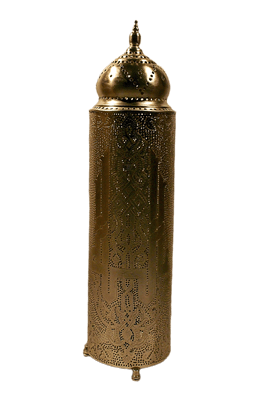 Description
Handmade Moroccan Brass Electrical Floor Lamp Shades
A beautiful handmade Moroccan electrical Table Lamp Shades made of solid Brass, The lamp is designed in a cylindrical shape with a crown looks like the dome of the mosque.
The word "Allah" which means god in Arabic is artistically hand etched on the lamp with an artistic Arabic calligraphy form which called Kufic which one of the oldest forms of the various Arabic scripts. Kufic developed around the end of the 7th century in Kufa, Iraq, from which it takes its name. The hand etching is designed to provide the shade of the word on the wall.
It would be perfect if placed on the floor and also can fit to be placed on a simple side table.
The lamp would attract the eyes of the visitors as soon as they would enter the room either it is switched on or off.
The lamp is electrically equipped and wired but without the plug and that is because plugs varies according to the region.