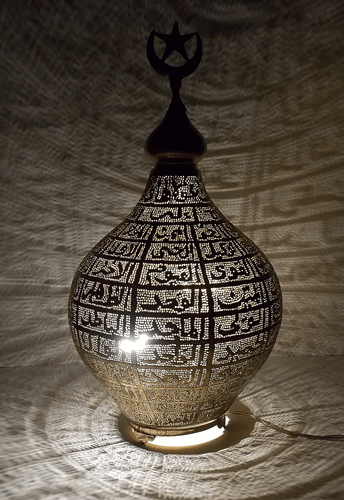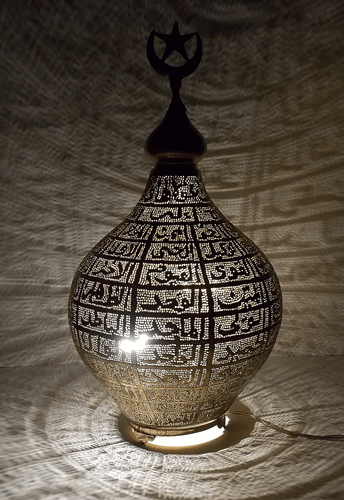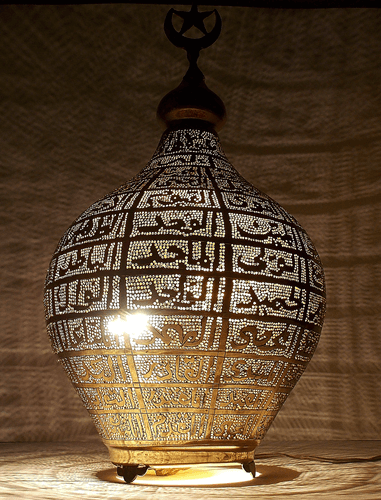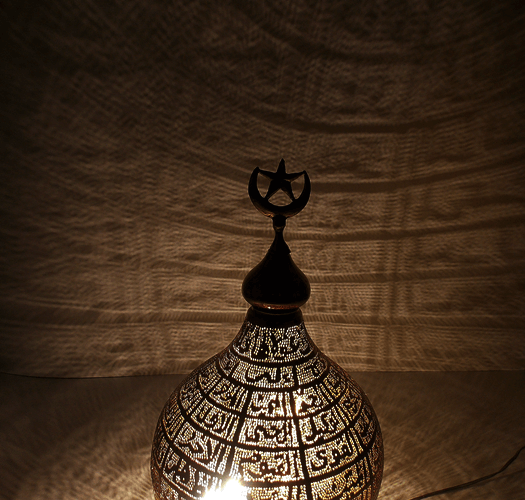 Description
Handmade Moroccan Brass Table Lamp with Holy Quran Calligraphy
One of a kind Moroccan table lamp made of a genuine Brass which is hand-pierced to have all the names of Allah (god) as printed in the holy Quran. As counted in the holy Quran there are ninety nine names of god which provides a description of his attributes. Our lamp was designed to include all those ninety nine names through using hand-piercing and cutting of Brass.
Those names are Allah is He, than Whom there is no other god, Allah, The Rahman, The Most Merciful / The Merciful, The Sovereign / The King, The Holy One / The Holy, The Source of Peace (and Perfection) / The Peace, The Guardian of Faith / The Believer, The Preserver of Safety / The Protector, The Exalted in Might / The Mighty, The Irresistible / The Compeller, The Supreme / The Most High, The Creator, The Evolver / The Maker, The Bestower of Forms (or Colors) / The Fashioner, The Ever-Forgiving (He Who Forgives again and again), The Ever-Subduing, The Ever-Endowing, The Ever-Sustaining, The Ever-Opening, The Omniscient, The Constrictor, The Expander, The Demoter, The Promoter, The Exalting, The Humiliator, The All-Hearing, The All-Seeing, The Judge, The Just, The Subtle, The Aware, The Forebearer, The Great, The All-Forgiving, The Thankful, The Most High / The Most Exalted, The Grand, The Best Guardian, The Best Provider, The Best Reckoner, The Most Majestic, The Most Beneficent / The Munificent , The Watchful, The Answerer, The Limitless, The Wise, The Affectionate, The Most Glorious, The Resurrector, The Best Witness, The Truth, The Advocate, The Almighty, The Puissant, The Best Patron, The Praiseworthy, The Counter, The Initiator, The Restorer, The Life-Giver, The Life-Taker, The Living, The Self-Existing, The Author, The Glorious, The Only One, The One, The Steadfast, The Able, The Omnipotent, The Advancer, The Delayer, The First, The Last, The Evident / The Outward, The Hidden / The Inward, The Patron, The Most High / The Lofty, The Beneficent, The Oft-Returning / The Exonerating, The Avenger, The Pardoner, The Compassionate, The Lord of Power (and Rule) / The Owner of Sovereignty, The Lord of Majesty & Bounty, The Equitable, The Gatherer, The Self-Sufficient / The Rich, The Enricher, The Preventer, The Distresser, The Benefactor, The Light, The Guide, The Originator, The Everlasting, The Inheritor, The Best-Guide, The Most Patient.
All these names are finely and artistically engraved on this lamp which is designed to provide Shades all over the place.
In case you would like to enjoy this beautiful Moroccan Table Lamp without having those strong shades all you need to do is install a stained white electric bulb.